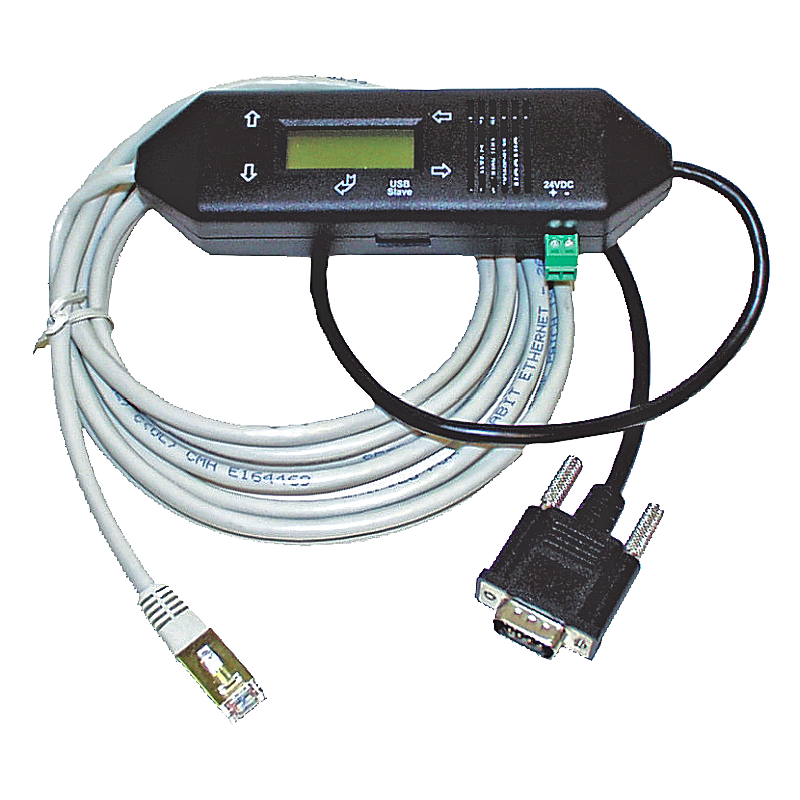 | | |
| --- | --- |
| | Downloads |
MPI-LAN S7-Interface cable for PPI, MPI, Profibus, HMI <=> LAN applications

Supplied driver TIC (Total Integrated Communication) (runs under Win XP, VISTA, Win7/8/8.1, Win10) allows communication and configuration of the interface product
Function with TIA-Portal and Simatic-Manager, also with WinCC and Comfort Panel

Automatic protocol- and baud rate detection (depends on the used product from 9K6 to 12M)
Connects only to the bus when it is requested by PG
Firmwareupdate via internet for free
PPI - adapter for S7 - 200
MPI/Profibus - adapter for S7 - 300 + 400
CE/EMC compliant construction
All intelligent MPI-interface-products including a free OPC-server license "OPC-Manager lite" [limited to 100 items]
All products, including the examples and demo-version of communication driver as download on the product-site

Master-class 2 for acyclic services (DPV1)

PUT/GET from S7-1500/1200/300/400(PN or with ethernet-cp) with spezific and unspezific connection possible
Cyclic read of time from NTP server and set in the connected PLC
Coupling with DB-transfer to S7-LAN, S7-Gateway, S7-CP, S5-LAN++ or S5 Gateway
Power supply from the S7-PLC or external
Network configuration free adjustable
VPN remote maintenance possible / for the maintenance of the PLC via Internet

Integrated display for output of diagnostic informations
Double-sided connected cable
Short plug to PLC
Provides the coupling with Android operating-system [for example S7Droid]

Technical data

Supply voltage:
24V/DC +/- 20%
Power consumption:
2,5 watt
Display:
double lined LCD-display
Handling/Configuration:
Kabelmanager-Software
keypad on the back
Interfaces:

to the PLC:

PPI/MPI/Profibus interface: 9,6 KBd - 12 MBd


to the PD/PC:

10/100MBit ethernet interface

Galvanic separation:
1500V PPI/MPI/Profibus to the PC
Operating temperature:
5 - 55°C
Case:
ABS-plastic case
Dimensions:
146 x 41 x 29 mm
Scope of delivery:
MPI-LAN-cable
Power connector 2pins small

Commercial data:
EAN number:
4260363240949
HS-code:
85444290
Weight:
0.3000 kg

technical data
docu / downloads


Applications

Programming of S7-PLCs via LAN

You would like to respond to your S7-PLC-device via LAN but not integrate an Ethernet-CP? No problem, plug the S7-LAN or also the MPI-LAN-cable on the MPI/PPI/Profibus-interface and access via LAN.

Watching of S7-PLC-devices via LAN without Ethernet-CP

Your panel only has a LAN-socket as PLC-interface? No problem, connect this socket with the S7-LAN or the MPI-LAN-cable and plug it directly on the PPI/MPI/Profibus of the PLC. Then access to the variables and data of the PLC is already available.

S7-CP-replacement (without LAN-CP to the PLC-device)

Do you have a S7-PLC-device without CP243-1, CP343-1 or CP443-1 and would like to connect via LAN? Then plug the S7-LAN on the PLC-device and your access via RFC1006 is ready for use.

Remote maintenance / telecontrol of PLC-devices via LAN / internet

You have access to a on-site network and your PLC-device has no LAN-connection? No problem, plug the S7-LAN on the PLC-device and you will have immediate access to the PLC from afar.

Without LAN-cable round of the PLC

Your're right in the middle of your production line and and should move around the machine and simultaneously observe / manage. No problem, you parameterize the S7-WLAN-Bridge, connect to the MPI-LAN and connect to an access-point or with the ad-hoc-network of your laptop and are ONLINE on the PLC.

Transformation of Rack/Slot in TSAP to MPI-address

Your panel or visualisationsystem addresses the used PLC with Rack/Slot in TSAP? No problem, activate this mode in the MPI-LAN-cable and you will get actual data from the PLC.

PLC-coupling (data exchange between PLC-devices)

Your pumping stations report the water levels of the central control via telephone network. The central office itself can of course transmit commands/messages to the substations as well. Thereto no dedicated line is required, it's sufficient when the stations connect via network (DSL-router).

Actual time for the PLC?

You need in your PLC a actual time? No problem, with the NTP-function the MPI-LAN-cable get from a NTP-(Time-)Server the actual time and transfers it direct into the configured PLC or for processing in a DB.

Variable-chart without Step7-programming package

You would like to give your customer the opportunity to read current numbers of the manufacturing Online, without installing a visualisation or even the STEP7-package? Then a S7-LAN with the option "Status Variable" is needed, and your customer can take a look at these password protected data on a site of the integrated webserver.

Malfunctions on the Bus although everything is (apparently) connected properly?

The S7-LAN can also be used for controlling/checking the MPI/Profibus. It will be plugged on the Bus so that you can take a look at the status of the busses via software on PC, for example the numbers of parity errors.