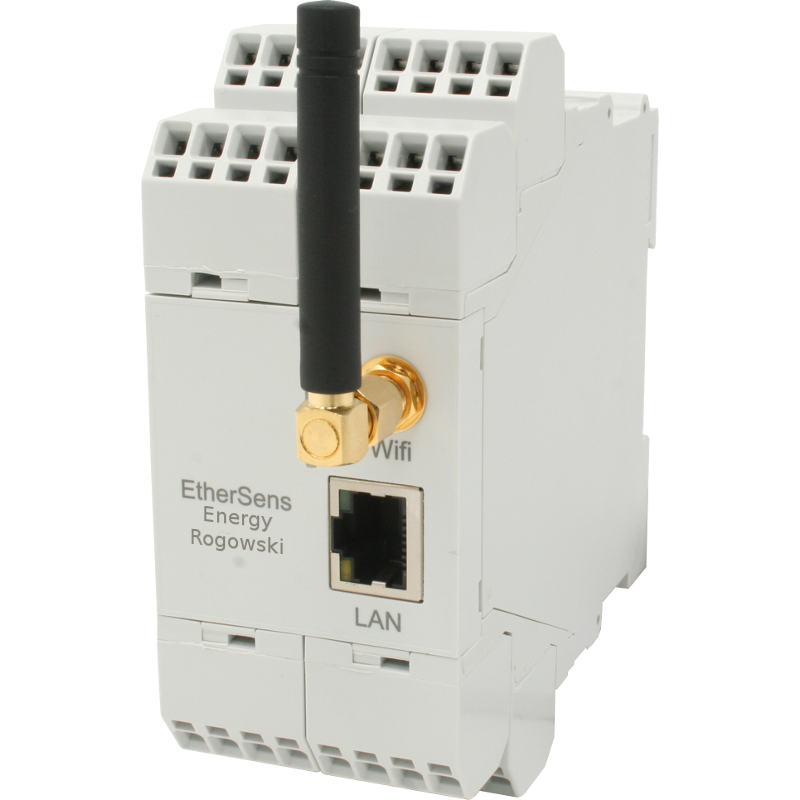 to the accessories
EtherSens Energy
Capture and monitor energy-data
Determining energy-efficiency
Energy-analysis (EN 50470-1 EN 50470-3)
L1, L2, L3 and N realtime analysis
up to 8000 measurements / second
frequency Hz / cos phi / power-factor
energy-measurement kW/h
Data-transfer via TCP/IP in a DB in S7-PLC
For Rogowski-spool
For folding cores
Example instruments-mask:

Example History:
Technical data
Supply voltage:
100 - 240V AC, 50 - 60 Hz
Power consumption:
6 watt
Display:
WEB-Browser
1 status LED bicolor
Handling/Configuration:
WEB-Browser
Interfaces:
4 x voltage-input (L1, L2, L3, N)
EtherSens Energy-II : 8x
4 x distributor-terminal
EtherSens Energy-II : 8x
4 x sensor-input (L+K- / B+W-terminal ever phase + N)
EtherSens Energy-II : 8x
Slot for microSD
Antenna-connector SMA(f) (2.4 GHz IEEE 802.11b/g)
10/100BaseTX RJ45-ethernet-plug
Button for factory settings
Overvoltage category:
CAT IV
Insulation value
network <=> mains voltage:
1,5 KV
Operating temperature:
0 - 55°C
Case:
ABS-plastic case V0
Dimensions:
100 x 112 x 45 mm
EtherSens Energy-II : 100 x 112 x 90 mm
Scope of delivery:
EtherSens Energy
WIFI-stub-antenna
Commercial data:
EAN number:
4260363244299
HS-code:
85423190
Weight:
0.3000 kg
technical data
docu / downloads

Applications
Detect unnecessary idling

Detect the efficiency of your plant by EtherSens devices. Log the preset parameters and evaluate them then later. Find so unnecessary idle-times.

Energy-data acquisition

Do you also need the energy-consumption of your plant or need to determine the cos phi? With the EtherSens Energy you can capture and record by using a Rogowski-coil or folding-core the required values.
technical data
applications
docu / downloads
devices:
Art. ID.
name
9202
EtherSens Energy for folding-cores
Energy-analysis (EN 50470-1 EN 50470-3)
L1, L2, L3, N realtime analysis
Up to 8000 measurements / second
Hz / cos phi / power-factor
Energy consumption kWh
Parallel LAN and WIFI-interface
For folding-cores with 1A secundary-current
9202-OW
EtherSens Energy for folding-cores only with LAN
Energy-analysis (EN 50470-1 EN 50470-3)
L1, L2, L3, N realtime analysis
Up to 8000 measurements / second
Hz / cos phi / power-factor
Energy consumption kWh
Only LAN-interface
For folding-cores with 1A secundary-current
9203
EtherSens Energy for Rogowski-coils
Energy-analysis (EN 50470-1 EN 50470-3)
L1, L2, L3, N realtime analysis
Up to 8000 measurements / second
Hz / cos phi / power-factor
Energy consumption kWh
Parallel LAN and WIFI-interface
For Rogwski-coils up to 0,5V
9203-II
EtherSens Energy-II for Rogowski-coils
Energy-analysis (EN 50470-1 EN 50470-3)
2x L1, 2x L2, 2x L3, 2x N realtime analysis
Up to 8000 measurements / second
Hz / cos phi / power-factor
Energy consumption kWh
Parallel LAN and WIFI-interface
For Rogwski-coils up to 0,5V
9203-II-OW
EtherSens Energy-II for Rogowski-coils only with LAN
Energy-analysis (EN 50470-1 EN 50470-3)
2x L1, 2x L2, 2x L3, 2x N realtime analysis
Up to 8000 measurements / second
Hz / cos phi / power-factor
Energy consumption kWh
Only LAN-interface
For Rogwski-coils up to 0,5V
9203-OW
EtherSens Energy for Rogowski-coils only with LAN
Energy-analysis (EN 50470-1 EN 50470-3)
L1, L2, L3, N realtime analysis
Up to 8000 measurements / second
Hz / cos phi / power-factor
Energy consumption kWh
Only LAN-interface
For Rogwski-coils up to 0,5V
sensors:
Art. ID.
name
9220-10
Folding-core current-sensor 100/1A
Cable hole: 17x17mm
Opening / closing with a handle
Output Terminals
Output overvoltage protection
9220-11
Folding-core current-sensor 60/1A
Cable hole: 17x17mm
Opening / closing with a handle
Output Terminals
Output overvoltage protection
9220-20
Rogowski-coil 500A, 55mm
Cable hole: 55mm
Cable length: 1,5m
Shutter: click cap
Easy and fast installation with no
interruptible power-lines
9220-21
Rogowski-coil 500A, 35mm
Cable hole: 35mm
Cable length: 1,5m
Shutter: click cap
Easy and fast installation with no
interruptible power-lines
9220-23-D
Rogowski-coil 500A, 470mm, twist-lock

  Obsolete


Cable hole: 470mm
Cable length: 2,5m
Shutter: screw cap
Easy and fast installation with no
interruptible power-lines
9220-24
Rogowski-coil 500A, 80mm
Cable hole: 80mm
Cable length: 1,5m
Shutter: click cap
Easy and fast installation with no
interruptible power-lines
9220-25-D
Rogowski-coil 500A, 35mm, twist-lock

  Obsolete


Cable hole: 35mm
Cable length: 2,5m
Shutter: twist-lock
Easy and fast installation with no
interruptible power-lines
9220-26-D
Rogowski-coil 500A, 80mm, twist-lock
Cable hole: 80mm
Cable length: 2,5m
Shutter: twist-lock
Easy and fast installation with no
interruptible power-lines
9220-27-D
Rogowski-coil 500A, 160mm, twist-lock

  Obsolete


Cable hole: 160mm
Cable length: 2,5m
Shutter: twist-lock
Easy and fast installation with no
interruptible power-lines
9220-28
Rogowski-coil 500A, 105mm
Cable hole: 105mm
Cable length: 1,5m
Shutter: click cap
Easy and fast installation with no
interruptible power-lines
extensions:
Art. ID.
name
9220-GYRO-SENS-312
Gyro-Sensor 312 für EtherSens
Measuring range: ±1.5g / ±3g / ±6g / ±12g
3.3V DC supply (from I2C-interfaceport)
I2C-connection 1m
9220-GYRO-SENS-313
Gyro-Sensor 313 für EtherSens
Measuring range: ±0.5g / ±1g / ±2g / ±4g
3.3V DC supply (from I2C-interfaceport)
I2C-connection 1m
9220-SEG-ANZEIGE
Segment-display for EtherSens
4 Digit 14 segment-display RED
0,56" high in wall-mounting case
5V DC supply (from I2C-interfaceport)
I2C-connection
9220-SONNE
Sun-light-sensor for EtherSens
max. 220k Lux (switchable ranges)
3.3V DC supply (from I2C-interfaceport)
I2C-connection 1m
9220-U-I-BOX
U-I-box for EtherSens
max. 1000V DC / 40A
24V DC supply
20cm power-cable 4mm2 with Amphenol-plug
I2C-connection 1m
9230-AIO
Extension Analog-IO V1.0
Extension-board for EtherSens-devices
4 x analog IN 0-5V
opt. with ext.Shunt 0/4-20mA
opt. with ext. restistance 0-10/24/50V
4 x analog OUT 0/4-20mA (24V)
Power consumption: 4W
9230-AIO-V1.1
Extension Analog-IO V1.1
Extension-board for EtherSens-devices
4 x Analogue Input (switchable between U, I,
differential)
4 x analog OUT 0/4-20mA (24V)
Power consumption: 4W
9230-DIO
Extension Digital-IO
Extension-board for EtherSens-devices
12 x digital IN or OUT 24VDC 400mA
free config with software
Power consumption: 4W
9230-EI2C-3.3V
Extension with ext. galv. separated I2C 3.3V
Extension-board for EtherSens-devices
with galvanic separated external
I2C-connector for 3.3V
Power consumption: 2W
9230-EI2C-5V
Extension with ext. galv. separated I2C 5V
Extension-board for EtherSens-devices
with galvanic separated external
I2C-connector for 5V
Power consumption: 2W
9230-GG
Bigger Case
Width 90mm instead of 45mm
9230-LTE
Extension LTE-modem
LTE-modem-board for EtherSens-devices
Send/receive of SMS-messages
Communication from/into internet
Power consumption: 6,5W
9230-MIO-232
Extension RS232-IO
Extensionboard for EtherSens-devices V1.0
for RS232 (RxD, TxD)
Power consumption: 2W
9230-MIO-422
Extension RS422-IO
Extensionboard for EtherSens-devices V1.0
for RS422 (4-wire)
Power consumption: 2W
9230-MIO-485
Extension RS485-IO
Extensionboard for EtherSens-devices V1.0
for RS485
Power consumption: 2W
9230-MIO-TTY
Extension TTY-IO
Extensionboard for EtherSens-devices V1.0
for TTY (incl. 2x current-sources)
Power consumption: 2W
9230-RIO-230V
Extension 230V Relay-IO
Extension-board for EtherSens-devices
Supply voltage: 230V AC
4 x relay-OUT 230VAC/16A
Power consumption: 2,5W
9230-USB
Extension USB-port
USB-port for EtherSens-devices (data storage)
Extension for:
- DB-backup/restoure-function
- CSV-recording
Maximum current: 200mA for 5V DC
accessories:
Art. ID.
name
9230-ANT-WAND
Stationary Wifi-antenna for wall fastening
for EtherSens-devices, cable length: 5m
for indoor and outdoor use
incl. bracket
9230-LTE-ANTW
Stationary LTE-antenna for fixed mounting
for EtherSens-devices LTE-modem
cable length: 2m
9230-SD-32
Micro-SD-card 32GB
for EtherSens-devices
SDHC class 10
9240-SDÜ
Option Safe S7-PLC-data-transmission
Function extension for recognition of save
data-transmission by toggle bit or counters
in the S7-PLC. In case of a failure, a default
configuration is mapped to the outputs.
9352-WLAN-ANT
Magnetic base antenna
for S7-WLAN-Bridge, WLAN-Klemme,
EtherSens
cable length: 3m
9636-CROSS
Cross-cable 3m Cat5+, shielded
RJ45 plug <=> RJ45 plug, twisted pinning
9636-TCPIP
Patch-cable 3m, Cat5+, shielded
RJ45 plug <=> RJ45 plug, 1:1
9636-TCPIP.02M
Patch-cable 0.25m, Cat5e, shielded
RJ45 plug <=> RJ45 plug, 1:1
9636-TCPIP.1M
Patch-cable 1m, Cat5e, shielded
RJ45 plug <=> RJ45 plug, 1:1