EtherSens Control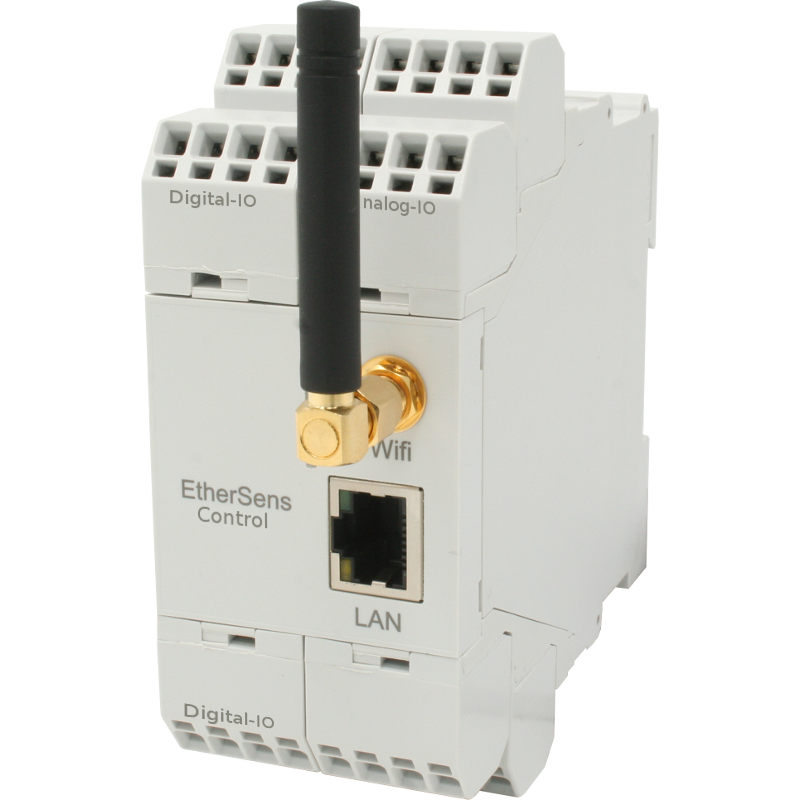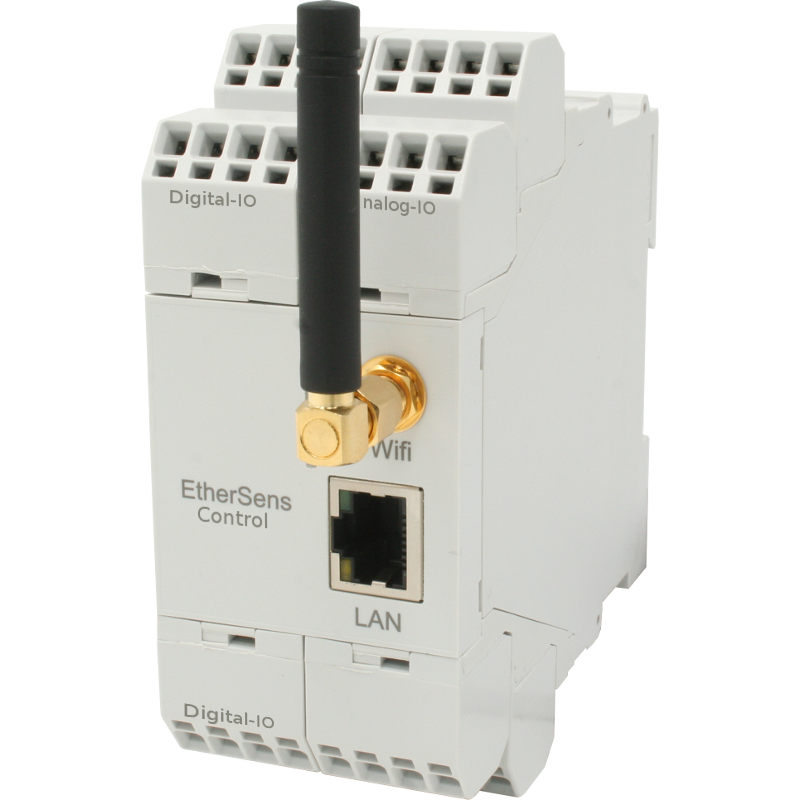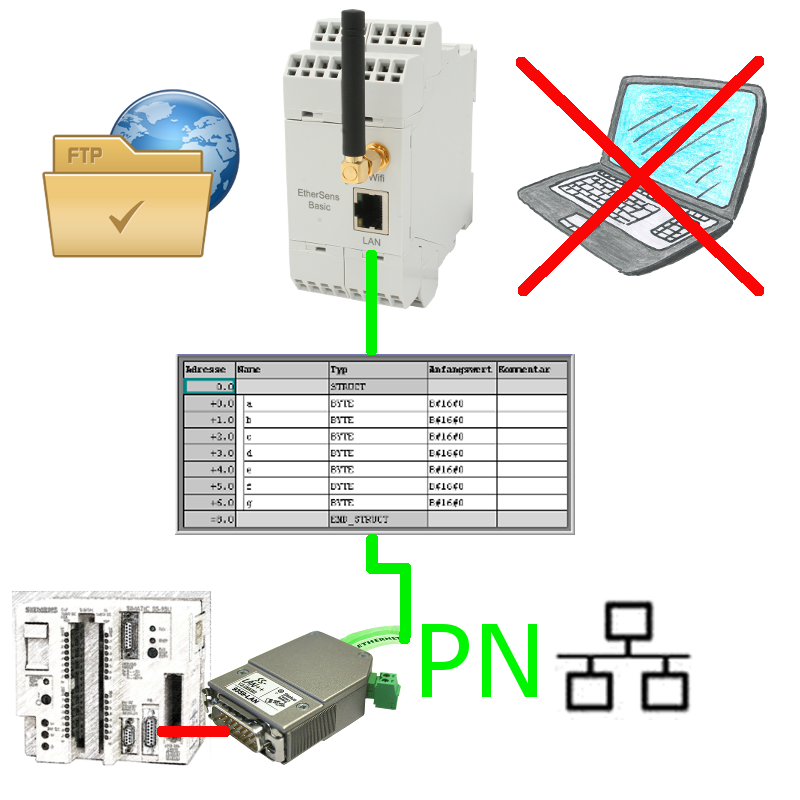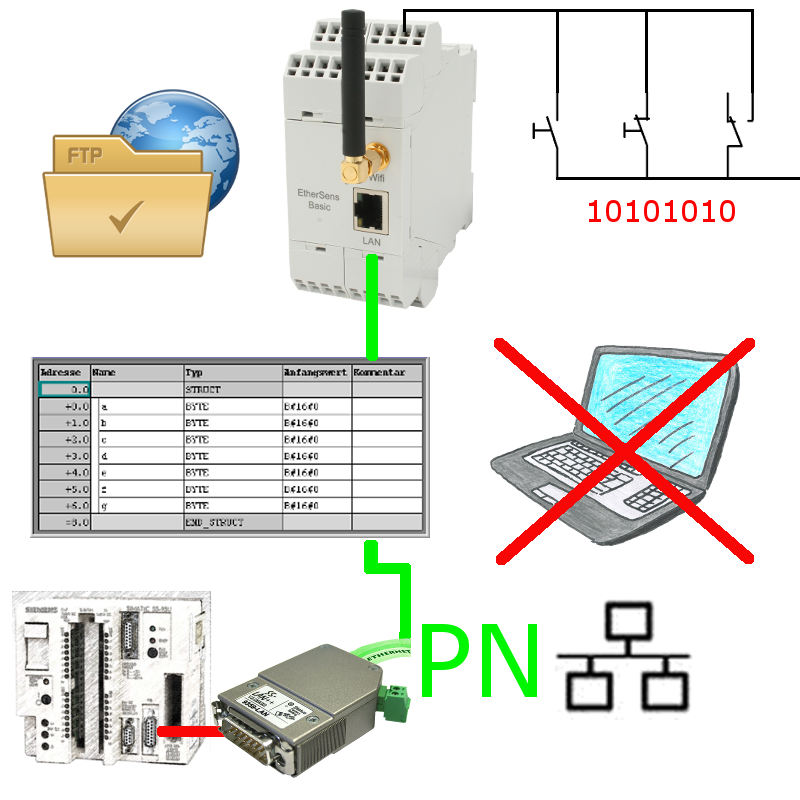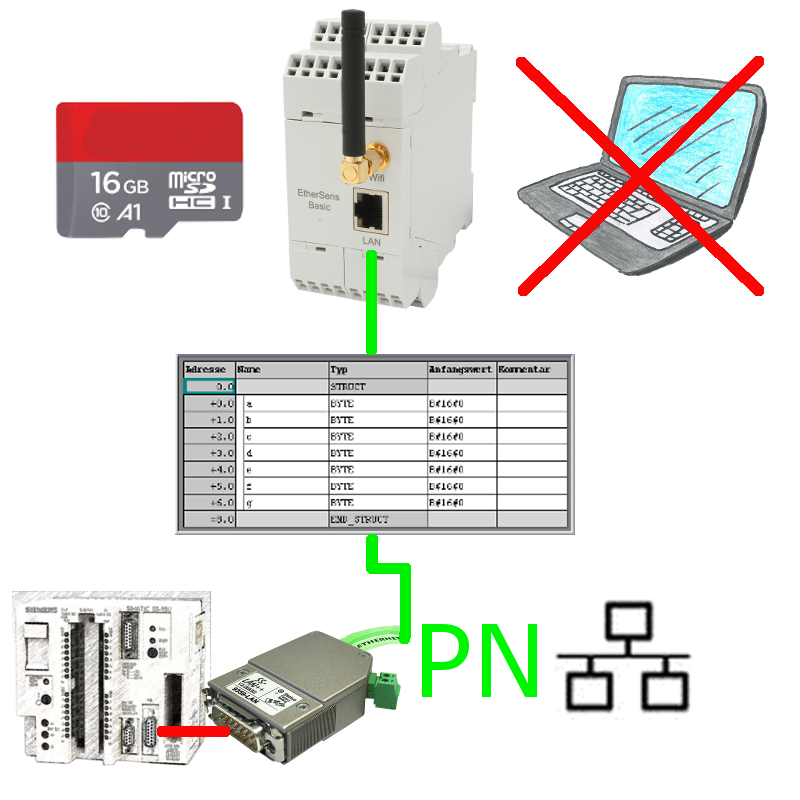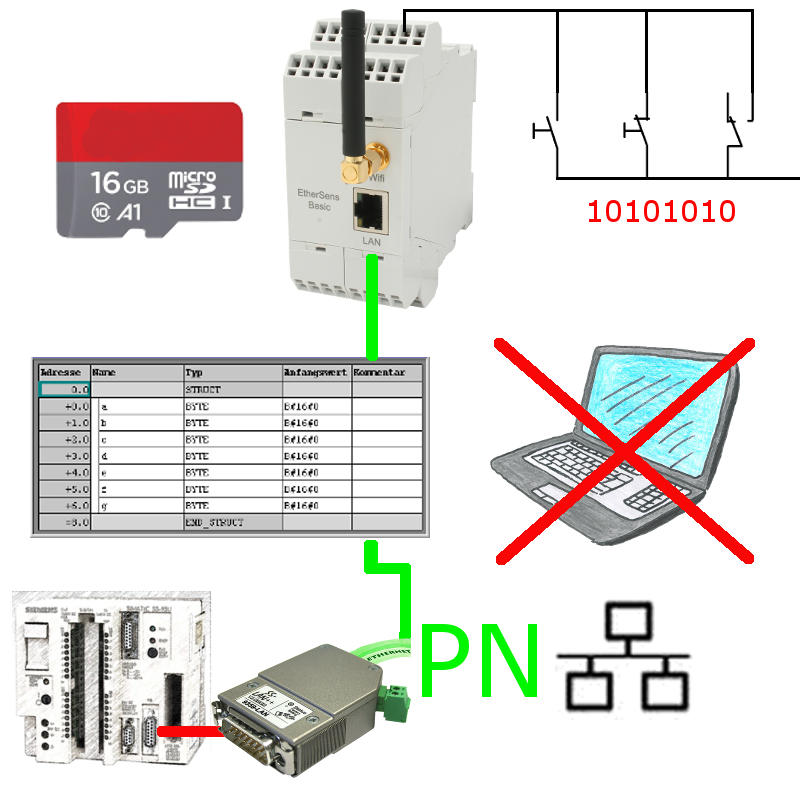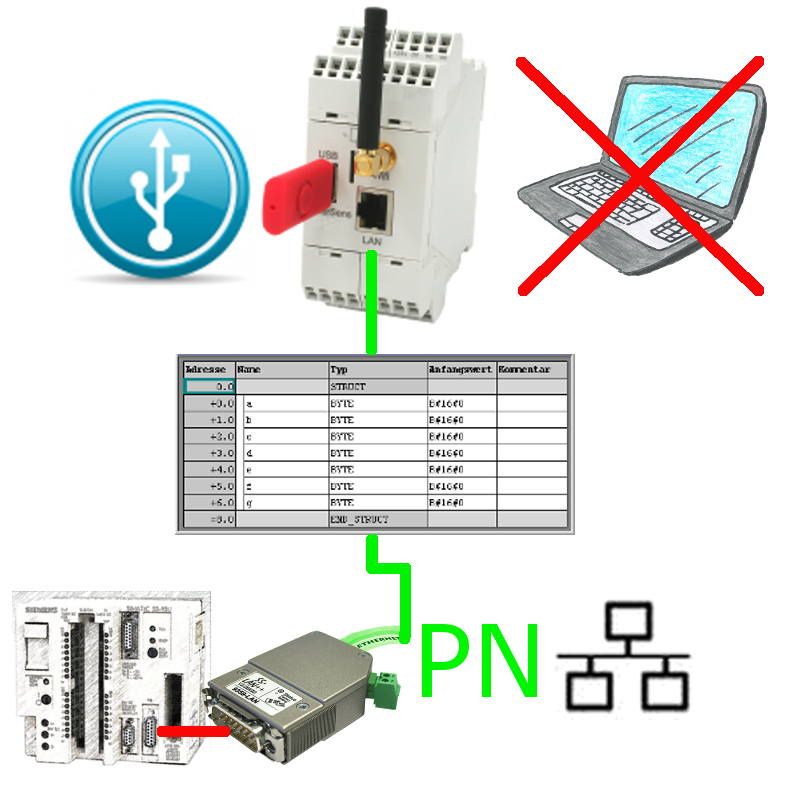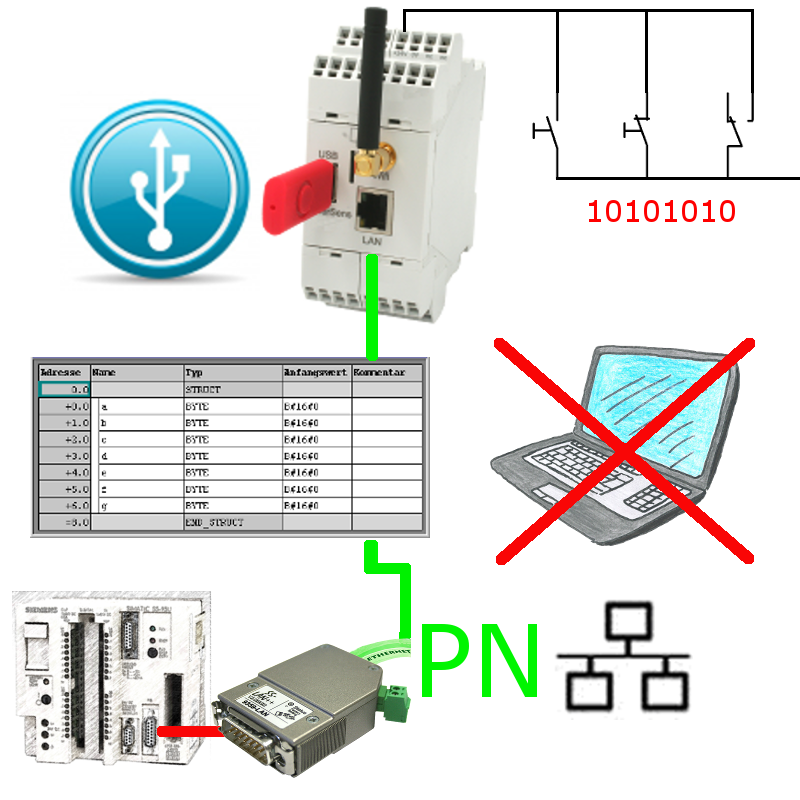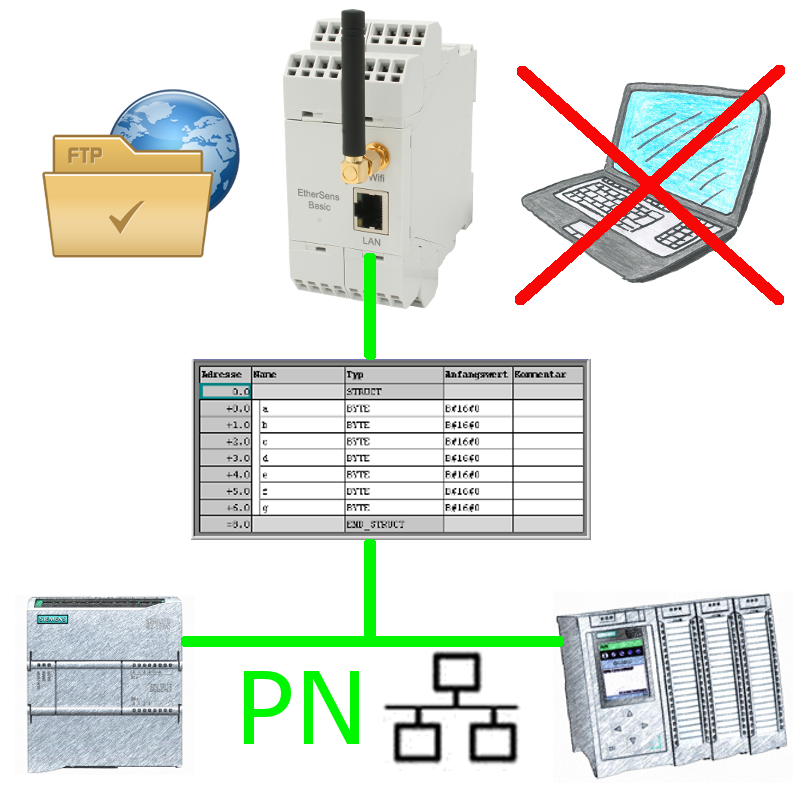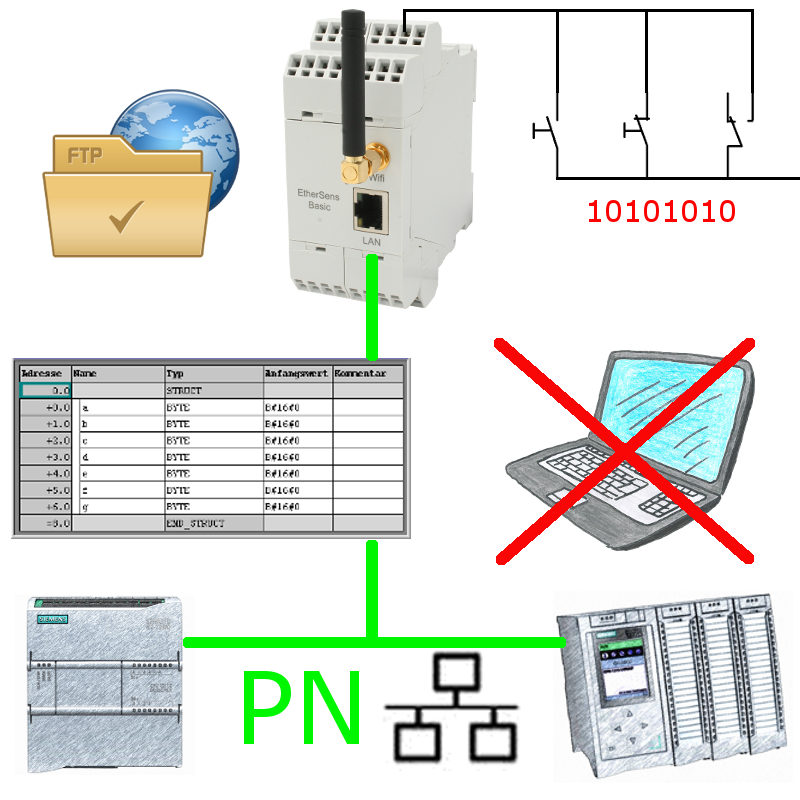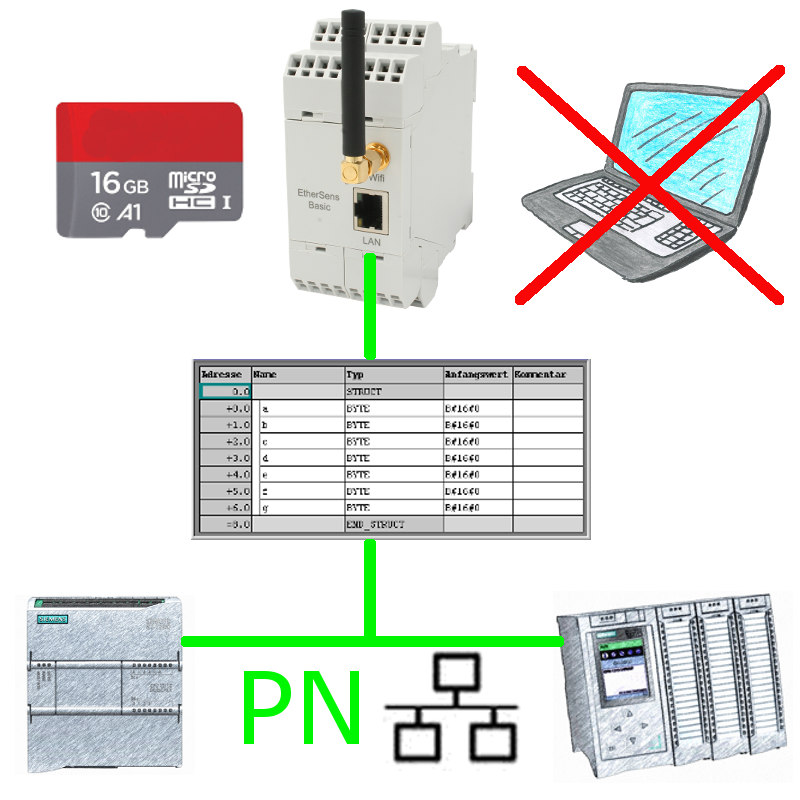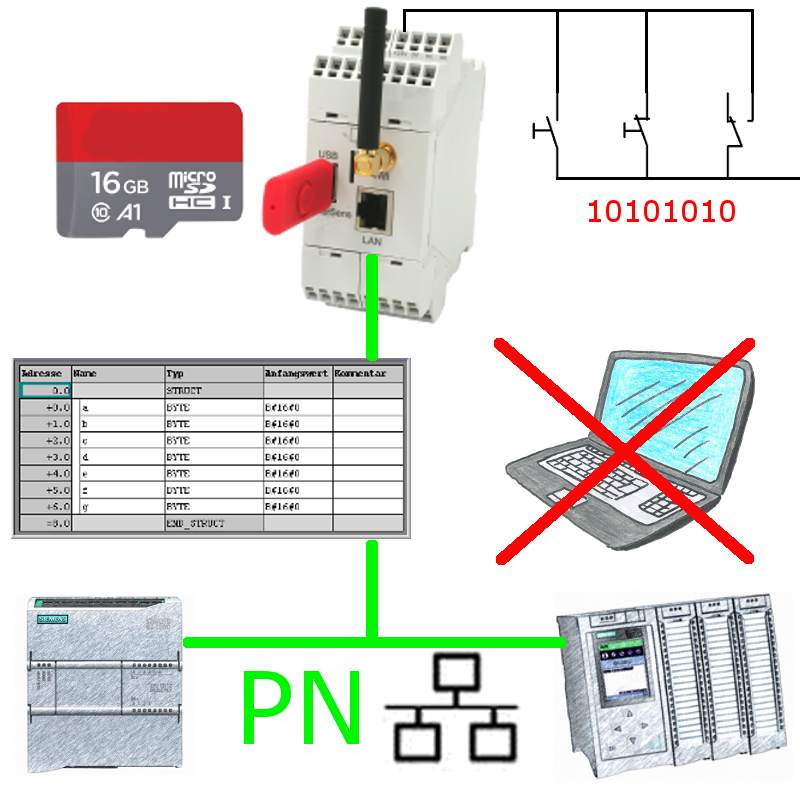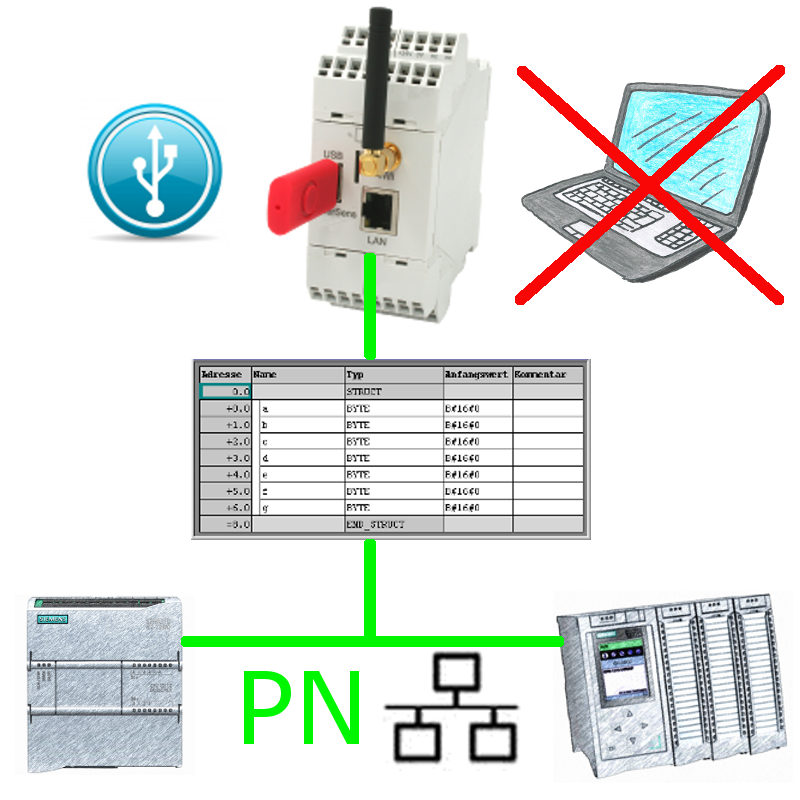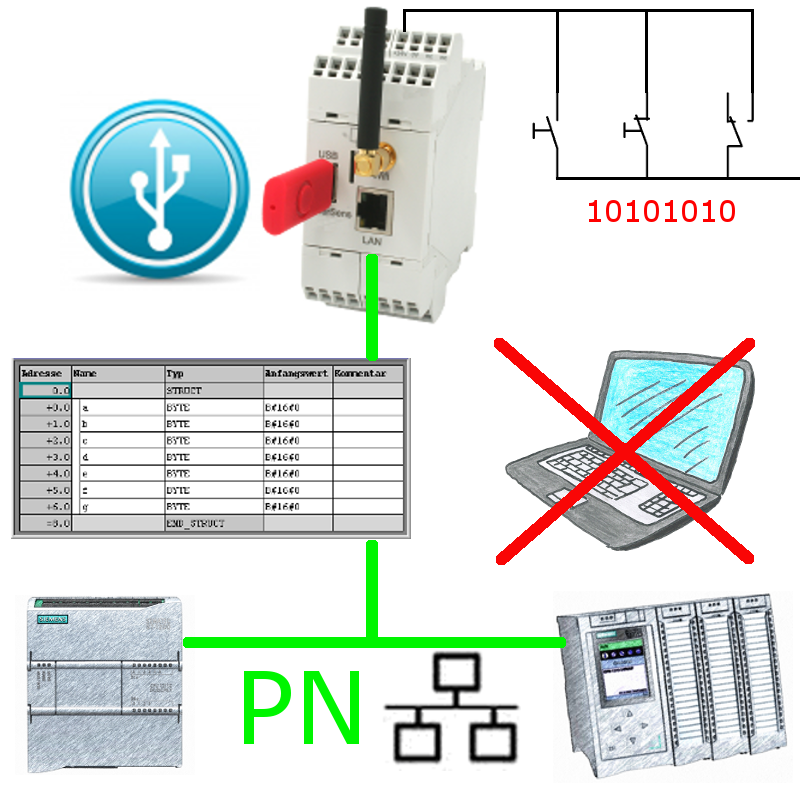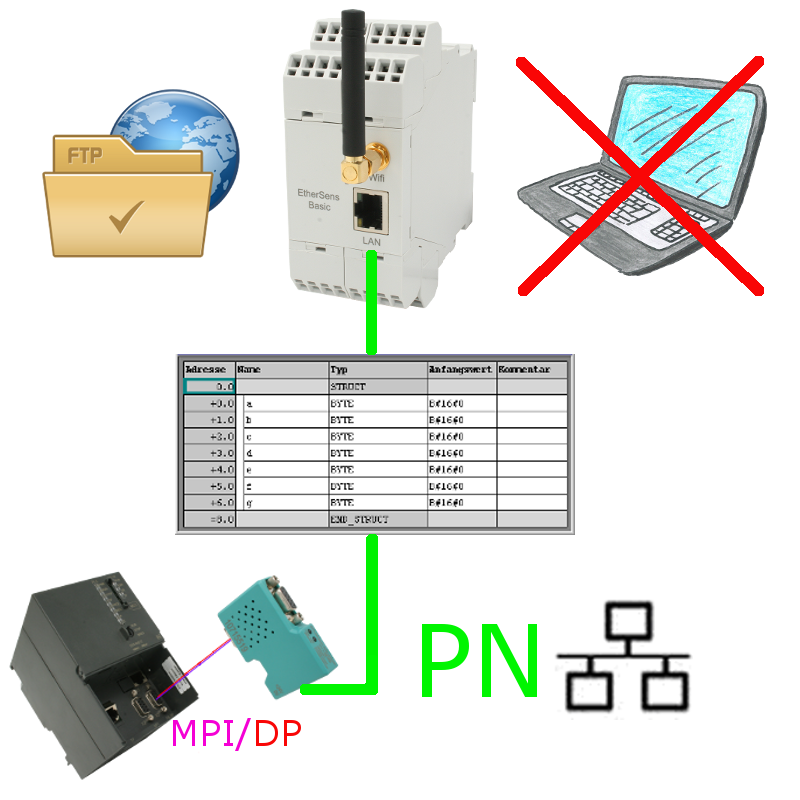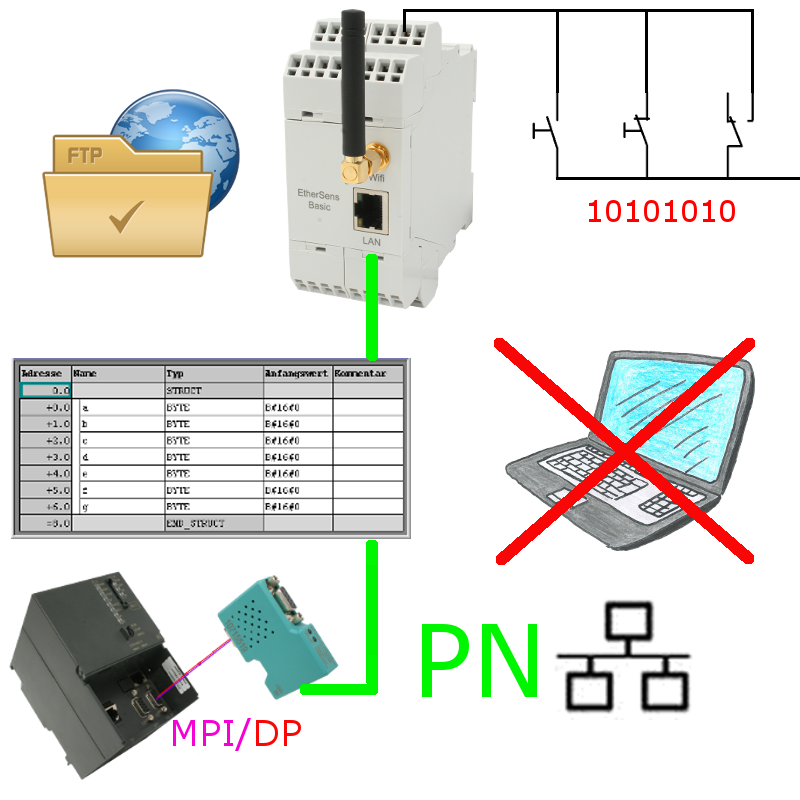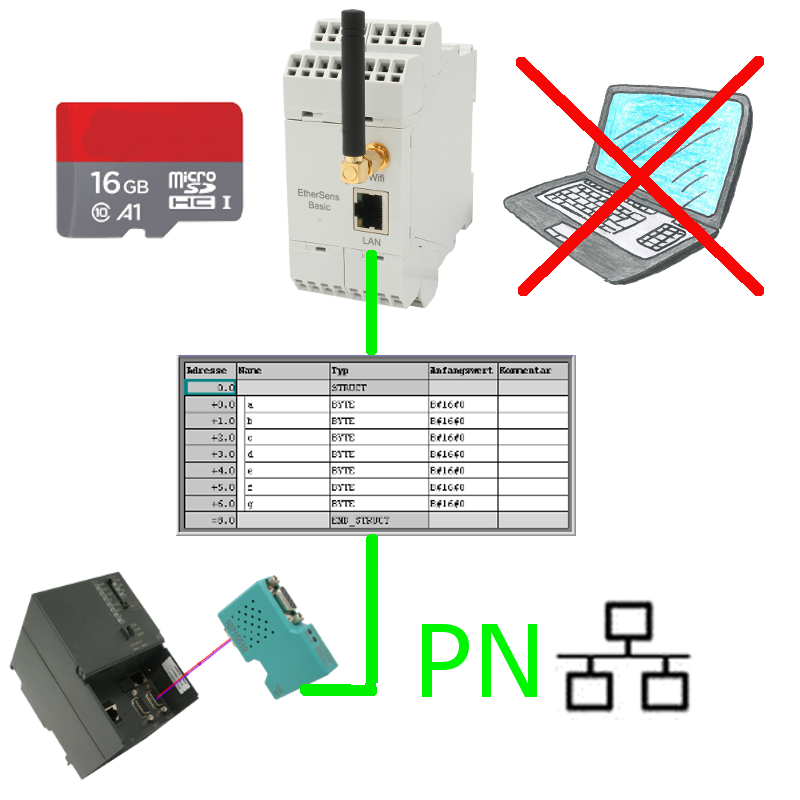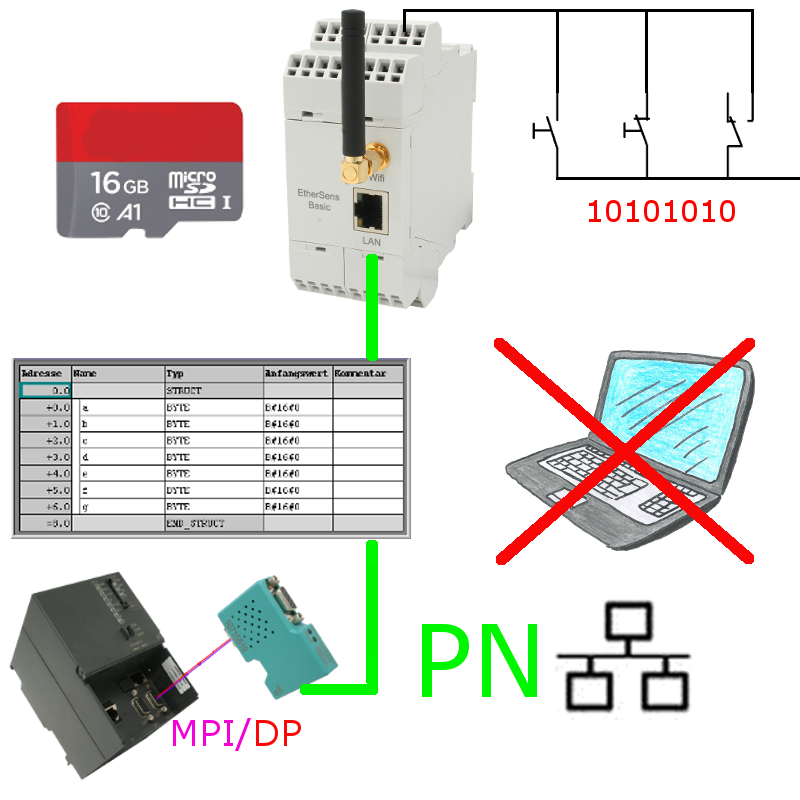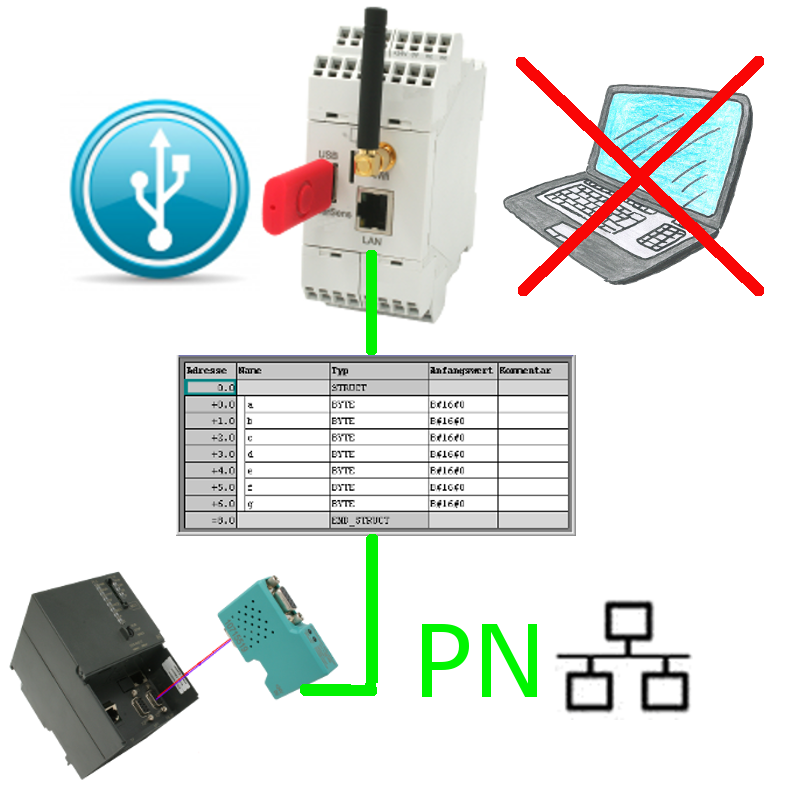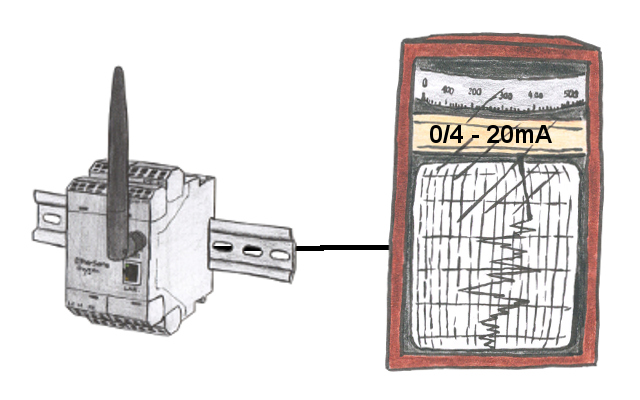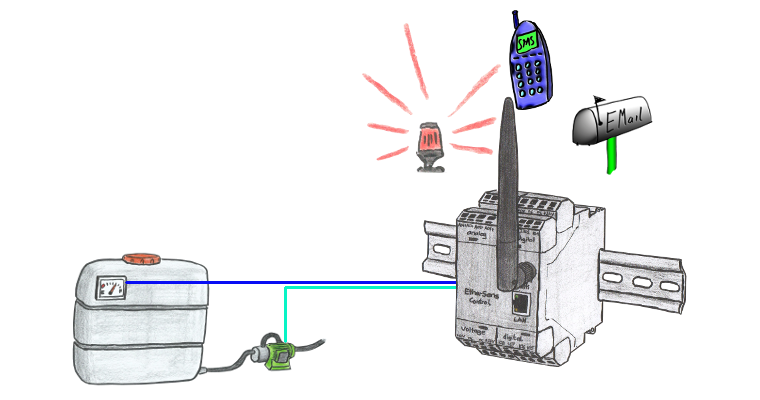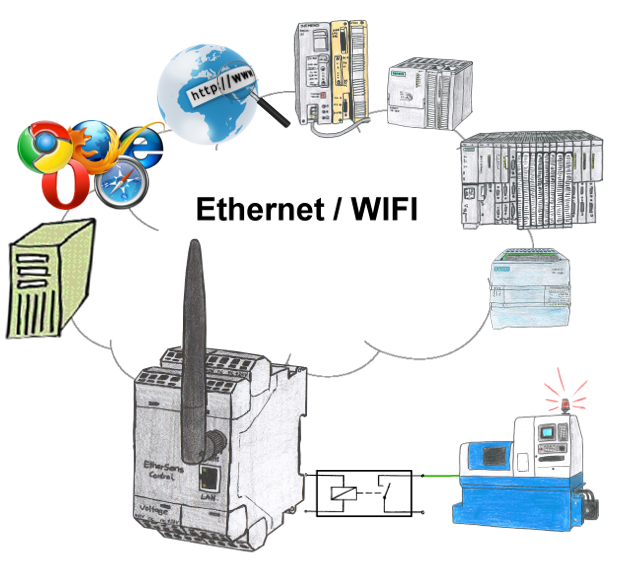 Monitor and protocol of digital and analog Input/Outputs
Logical evaluation (small control tasks) in the device
Data-transfer via TCP/IP in a DB in S7-PLC
Logical evaluation (small control tasks) in the device
Data-transfer via TCP/IP in a DB in S7-PLC
Data backup S5-PLC on FTP-Server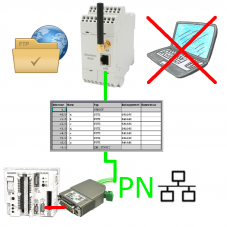 S5-PLC triggered DB-backup/-restore without additional PC via PG-socket and Ethernet on FTP-server
Data backup S5-PLC on FTP-server via dig. IO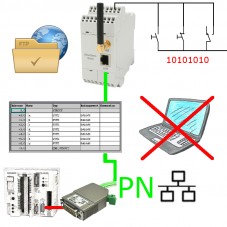 Via digital input triggered DB-backup/-restore without additional PC via PG-socket and Ethernet to FTP-server
Data backup S5-PLC on SD-card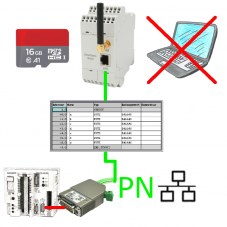 S5-PLC triggered DB-backup/-restore without additional PC via PG-socket and Ethernet on SD-card
Data backup S5-PLC on SD-card via dig. IO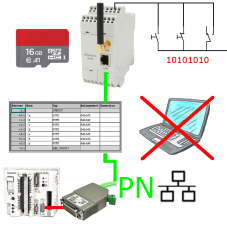 Via digital input triggered DB-backup/-restore without additional PC via PG-socket and Ethernet to SD-card
Data backup S5-PLC on USB-stick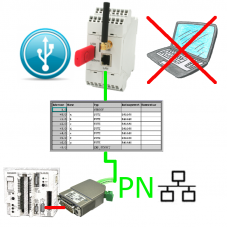 S5-PLC triggered DB-backup/-restore without additional PC via PG-socket and Ethernet on USB-stick
Data backup S5-PLC on USB-stick via dig. IO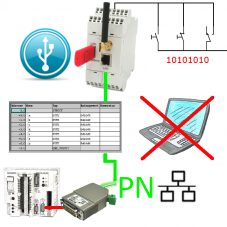 Via digital input triggered DB-backup/-restore without additional PC via PG-socket and Ethernet to USB-stick
Data backup S7-PLC PN-port on FTP-server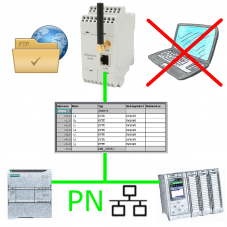 S7-PLC triggered DB-backup/-restore without additional PC via PN-port on FTP-server
Data backup S7-PLC PN-port on FTP-server via dig. IO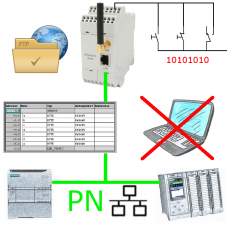 Via digital input triggered DB-backup/-restore without additional PC via PN-port to FTP-server
Data backup S7-PLC PN-port on SD-card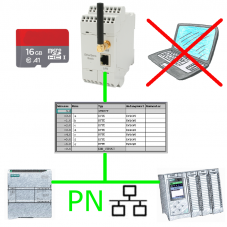 S7-PLC triggered DB-backup/-restore without additional PC via PN-port on SD card
Data backup S7-PLC PN-port on SD-card via dig. IO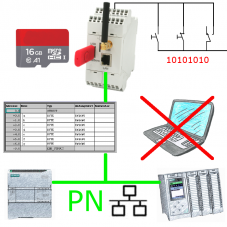 Via digital input triggered DB-backup/-restore without additional PC via PN-port to SD-card
Data backup S7-PLC PN-port on USB-stick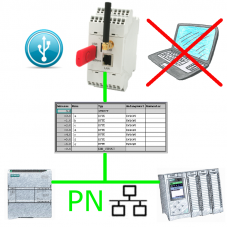 S7-PLC triggered DB-backup/-restore without additional PC via PN-port to USB-stick
DB-Backup/Restore S7-PLC PN-port on USB-stick via dig. IO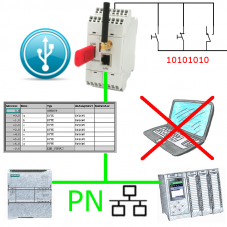 Via digital input triggered DB-backup/-restore without additional PC via PN-port to USB-stick
Data backup S7-PLC over MPI/Profibus on FTP-server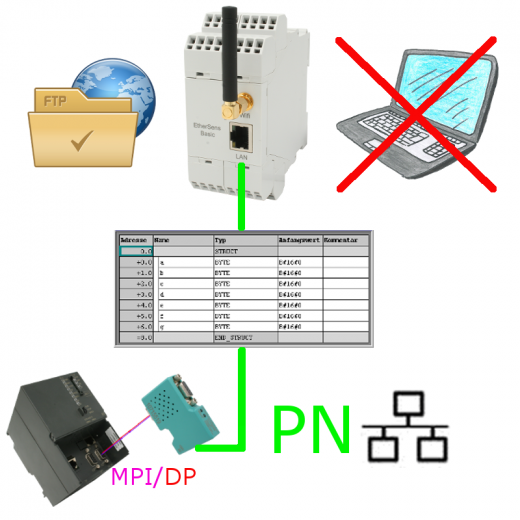 S7-PLC triggered DB-backup/-restore without additional PC via MPI/Profibus on FTP-server
Data backup S7-PLC over MPI/Profibus on FTP-server via dig. IO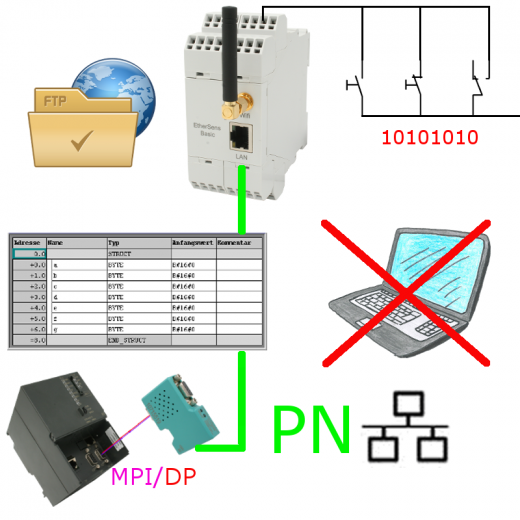 Via digital input triggered DB-backup/-restore without additional PC via MPI/Profibus to FTP-server
Data backup S7-PLC over MPI/Profibus on SD-card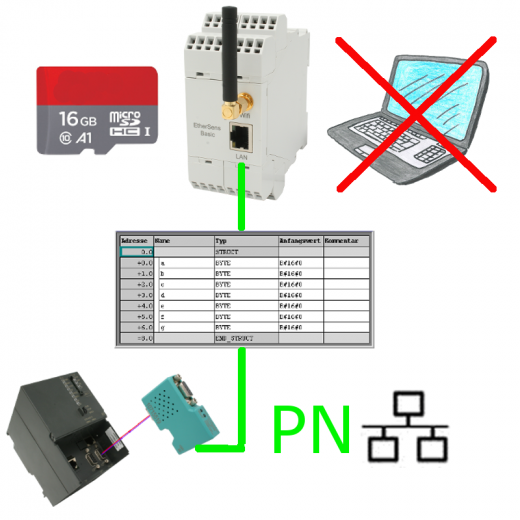 S7-PLC triggered DB-backup/-restore without additional PC via MPI/Profibus on SD-card
Data backup S7-PLC over MPI/Profibus on SD-card via dig. IO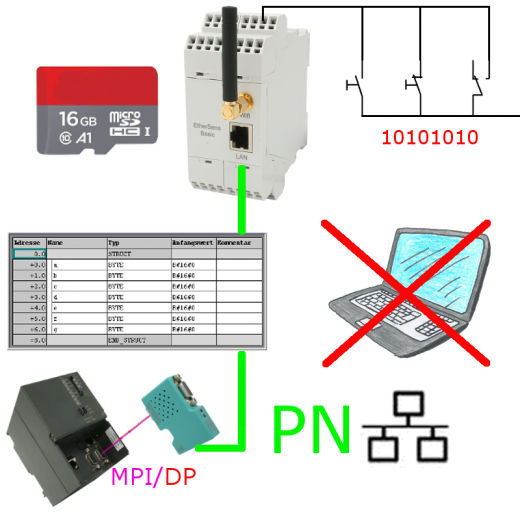 Via digital input triggered DB-backup/-restore without additional PC via MPI/Profibus to SD-card
Data backup S7-PLC over MPI/Profibus on USB-stick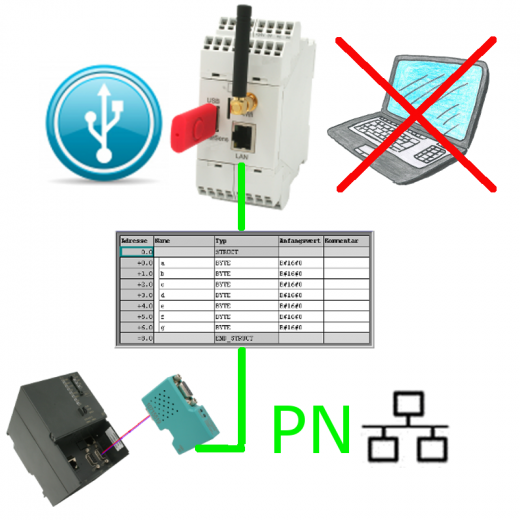 S7-PLC triggered DB-backup/-restore without additional PC via MPI/Profibus on USB-stick
Data backup S7-PLC over MPI/Profibus on USB-stick via dig. IO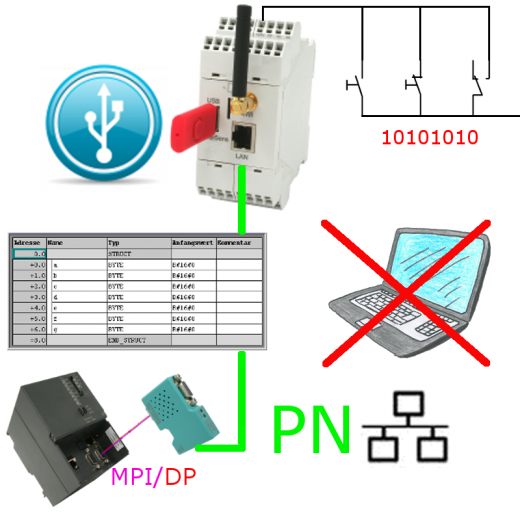 Via digital input triggered DB-backup/-restore without additional PC via MPI/Profibus to USB-stick
Data acquisition/logging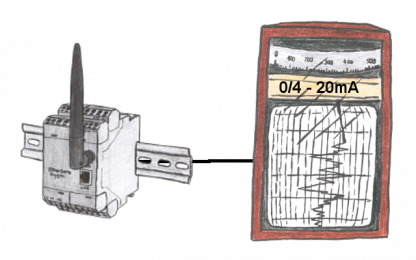 By connecting a line-recorder to the EtherSens-device anyone without network-knowledge can visually capture and further process the log.
Detecting and controlling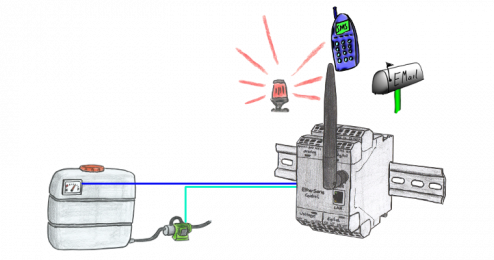 Control with the EtherSens-devices your systems and determine the switching-points at which the device must react. Either it performs an action or inform you via email or SMS.
Relaycontacts 230VAC/16A directly over WIFI/LAN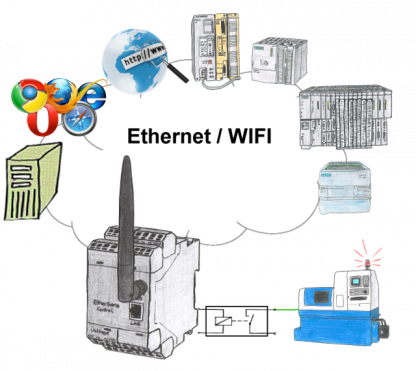 Switch with the EtherSens Control with relay-output easily and directly over LAN or WIFI up to 230VAC/16A, switchable over web-browser, TCP/IP-protocol or PLC-controlled. At the same time you monitor the switching-states on the optional SD-card or on the FTP server.
Supply voltage:
24V DC +/- 20%
Power consumption:
10 watt (without possibly switched outputs)
Display:
WEB-Browser
1 status LED bicolor
Handling/Configuration:
WEB-Browser
Interfaces:
12 x digital-IO switchable as
 - Input (24VDC max. 8k2 (PullUp external) / min. 1.6mA ) or
 - Output (24VDC 400mA)
4 x Analogue Input V1.0 (0-5V)
 - opt. with ext.Shunt 0/4-20mA
 - opt. with ext. restistance 0-10/24/50V
4 x Analogue Input V1.1 (switchable between U, I, differential)
 - Free configurable voltage-inputs with full 15-bit resolution:
  0-50V, 0-40V, 0-20V, 0-10V, 0-5V, 0-4V, 0-2V,
  0-1V, 0-0,5V, 0-0,25V
 - Free configurable differential voltage-inputs with full 15-bit
  resolution AI1 <-> AI2 and AI3 <-> AI4:
  +/-50V, +/-40V, +/-10V, +/-5V, +/-4V, +/-2V, +/-1V, +/-0,5V, +/-0,25V
 - Free configurable current-inputs with full 15-bit resolution:
  0-20mA, 4-20mA
 - sample-rate of AD-converter can be selected:
  - fast = fast conversion / short precision
  - balanced = middle conversion / middle precision
  - exact = slow conversion / high precision
 - Measuring ranges after changing are calibrated to:
  - offset for 0V / 0mA
  - slope of voltage / current
   (ideal for end of measuring-range / full-scale)
 - Relative values can be configured to the original voltage- /
  current-values. For e.g.:
  On the voltage-input 10V were measured 5V,
  relative minimum = 0 kg, relative maximum = 100 kg,
  so the displayed-value is 50 kg
  Is minimum and maximum configured as 0 the measured
  voltage- / current-value will be displayed.
4 x analogue Output 0/4-20mA (source-power 24V)
Slot for microSD
Antenna-connector SMA(f) (2.4 GHz IEEE 802.11b/g)
10/100BaseTX RJ45-ethernet-plug
Button for factory settings
Overvoltage category:
CAT IV
Insulation value
network <=> mains voltage:
1,5 KV
Operating temperature:
0 - 55°C
Case:
ABS-plastic case V0
Dimensions:
100 x 112 x 45 mm
Scope of delivery:
EtherSens Control
WIFI-stub-antenna
Versionstory
Main downloads
Documentation