Fiber optic adapter for differential transmission (G) user manual
(english)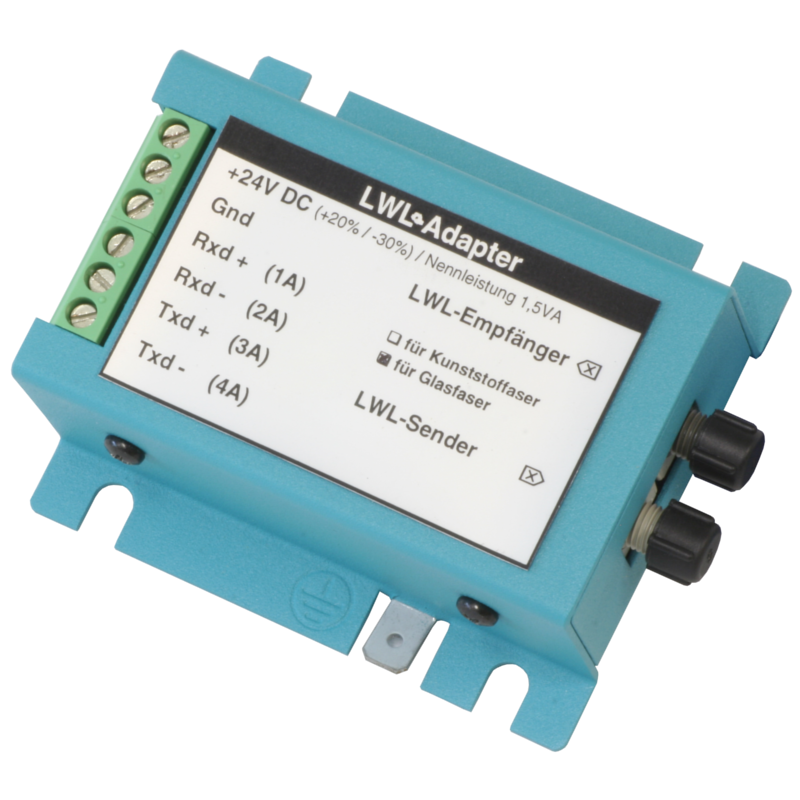 29.05.2020

© TPA 2020


index of contents
Fiber optic adapter for differential transmission (G)
0.1 LWL ADAPTER
0.1.1 General to beam-waveguide
To the basic advantages to the LWL-technique opposite wiring with copper conductor belongs among other things:
• Interference protection
* beam-waveguides are insensitive also without shielding opposite electromagnetic fields
* No "antenna effect" of the conductor
• potential separation
* beam-waveguides are insulators (ca.110kV/m).
* No current compensations due to various earth-potentials.
• Lightning protecton
* beam-waveguides are insulators
• Ex-protection
* No spark genesis at separation or cable disruption.
• Bugging protection
* No crosstalk.
• Weight
* Low cable mesures.
fiber (without coat) has a core and an outside skin which one another refraktionindex for the light. Around the fiber is because of one possible inductive disturbance a PVC or PE coat which protects the fiber from external interferences.
glass fiber
synthetic material fiber
dk = diameter core
62,5µm
980µm
dm = diameter outsideskin
125µm
1000µm
0.1.2 General to LWL-ADAPTER
There are two different models for the general application:
• LWL-Adapter für Kunststoffaser-Leitungen
(LWL-Adapter for synthetic material fiber lines)
• LWL-Adapter für Glasfaser-Leitungen
(LWL-Adapter for glass fiber lines)
The complete electronics are integrated in an industrial metal casing (which is prepared for the mounting of a switchgear cubicle or a switchboard). The device can be fastened directly to the switchboard.
Connection, mechanics, pin seizure and electrical data meet the respective iBx specification.
However, the LWL-System can individually be used by other userspecific hook-ups (RS485 4-wire interface).

0.1.3 Hardware connection on iBx-clamp
The entrance and exit represent a RS485 interface on the wired side of the LWL-Adapter. One of these interfaces of usual connection is needed therefore:
To use is a cable of the type 2 x 2 x 0.25 mm2 in pairs with shield.
This cable is attached by screwterminals at the LWL-Adapter.

0.1.4 Hardware connection between two LWL-Adapter
One in this case distinguishes between LWL-Adapter for synthetic material fiber and LWL-Adapter für glass fiber:
Important at both systems:
Should the cable get canned at own is open good polished fraying respect
• LWL-Adapter for synthetic material fiber:
Cable type:
Duplex Typ POF (980µm/1000µm) coat PE or PVC
Plug type:
DST-MV (Duplex-plug with locking system) [HP-Typ HFBR4516]
DST-OV (Duplex-plugr without locking system) [HP-Typ HFBR4506]
Two cable fibers are summarized in a plug respectively
Länge:
ca.145m
Wellenlänge:
665nm

LWL-Adapter for glass fiber:
| | |
| --- | --- |
| Cable type: | only duplex Typ 6F 62,5 (62,5µm/125µm) coat PE or PVC (please do not use cable type GF 50, because the transmitter and receiver are designed for a fiber cross-section of 62.5 µm/125µm. A cross section of 50µm/100µm would bringing heavy loss of quality with it.) |
| Plug type: | F-SMA terminal with screwconnectors for every cable fiber one connector |
| Length: | ca. 2,5km |
| Wavelength:: | 820nm |
0.1.5 Hook-up-example
LWL-System

===>
===>

<===
<===

<===
<===

===>
===>

======>

<======
0.1.6 Technical data LWL Adapter
power supply:
24V/DC +/- 20%
power draw:
1,5 power power VA
interfaces:
2 x screw terminals for the voltage connection
4 x screw terminal for differential transmission (TX & RX)
2 x socket, for F-SMA LWL connector
max. Length between two adapters:
glass fiber = ca. 2,5 km
thetic material fiber = ca.145 m
working temperature:
5 to 55 Grad Celsius
case:
powder coated metal case with mounting flange
dimensions:
75 x 65 x 30 mm